R2 Documentation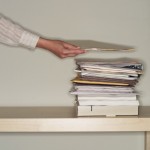 Since the R2 Practices document was developed primarily for use as a specification standard to support certification of electronics recyclers, it contains very specific requirements for developing and maintaining documentation.
In particular, section 13 states –
General Principle – An R2 electronics recycler shall maintain the documentation necessary for an auditor to assess its conformity to the requirements of this document.
R2 Practices:
(a) An electronics recycler shall maintain in a single location each piece of documentation necessary to show conformity to each requirement of this document.
This means that in order to become certified, an electronics recycler must identify the documentation that needs to be developed, write it and make it available "in a single location."  This "single location" requirement means that the documentation needs to be readily accessible to the  auditor when the certification audit is conducted.
The R2 Practices contain a number of documentation requirements.  These are identifiable by phrases such as –
"in writing,"
"written plan" or "written procedures"
"identify and document"
"capture in writing"
In addition to these explicit documentation requirements, there are other R2 requirements where the only effective way to prove conformance is through the creation of appropriate documentation.  For example, it would be difficult to show compliance with 4.(e) – monitoring of OH&S risks for compliance with established permissible exposure limits (PELs) – without creating exposure monitoring records.
Want to learn more about creating effective documentation for an environmental, health and safety management system?
Click here to check out ENLAR's training program – How to Effectively Document your Environmental Management System.
Additional Resources
Check out these Blog Posts from www.ohsas18001expert.com -
Have a question about creating documentation for an R2 Management System?  Click here.