Responsible Recycling
Responsible Recycling (R2) is a certification standard developed to help address the electronic waste (E-Waste) problem.
The E-Waste Problem
The "E-Waste Problem" consists of 2 parts –
First, the massive quantities of electronics waste being generated.
Second, how to recycle this waste to retrieve usable components and scrap materials, without creating health and environmental harm.
The E-Waste Problem – Part 1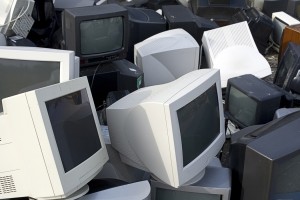 Given the rapid obsolescence of electronic equipment, we are creating massive quantities of e-waste.
This E-Waste stream includes computers and computer components, televisions and monitors, printers, copiers and mobile devices such as cell phones.  Mobile devices are the fastest growing category of e-waste.  U.S. EPA projected that there were 141 million devices ready for end-of-life management in 2009.
Consider these statistics from U.S. EPA  –
438 million electronics products were sold in 2009, which represents a doubling of sales from 1997.
Approximately 2.37 million tons of electronics were ready for end-of-life management in 2009 – representing an increase of more than 120% compared to 1999 – with CRTs (TVs and monitors) comprising nearly half of this waste stream.
Of the electronics waste generated, only 25% of it is collected for recycling.
To review other statistics collected by U.S. EPA, go to http://www.epa.gov/wastes/conserve/materials/ecycling/manage.htm.
The E-Waste Problem – Part 2
E-waste contains a number of toxic substances such as lead, cadmium, beryllium, mercury and brominated flame retardants.  If this waste is not handled properly, it can harm both human health and the environment.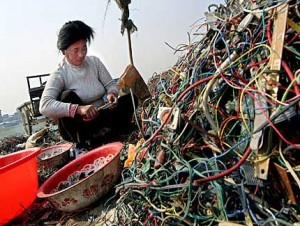 In the past, large quantities of E-waste were exported to countries with lax or non-existent environmental, health and safety (EHS) regulatory enforcement and the infrastructure needed to handle the waste safely.  This resulted in graphic news stories of workers and community residents being exposed to serious health risks and environmental pollution. This has been of special concern to countries in Africa and the Asia-Pacific region.
To see more on the health and environmental impacts of improper handling of E-waste materials in developing countries, go to the Basel Action Network (BAN) site at http://www.ban.org/.
In addition to the environmental and worker health and safety concerns, there are also data security issues associated with electronics disposal.  A series of high-profile news stories have been published about the sensitive information still stored on discarded electronic devices – including computer hard drives, scanners and copiers and cell phones.  This has included information such as social security numbers, medical records and even a document detailing missile test launch procedures.
The E-Waste Solution
The "E-Waste Problem" has lead to the development of multiple regulatory programs and third-party certification schemes – both in the United States and abroad.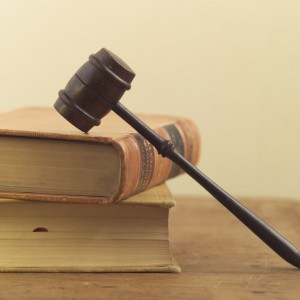 In the United States, at least 24 states have developed some form of electronics recycling regulation.  Some of these regulations establish comprehensive "take back" programs – similar to those put in place by in the European Union (EU).  Other regulations are more limited, covering only certain components (e.g. batteries).
The United States is not the only country that has developed regulations covering the development and handling of E-Waste.  The European Union developed the WEEE and ROHS directives that essentially cover everything with a power source (with only specific exclusions). Other countries have also developed E-Waste regulations, including import/export bans, manufacturer "take-back" requirements and disposal fees and restrictions.
For more information about the legal requirements applicable to the disposal of electronic devices, click here.
There are three different ANAB accredited certification programs for electronics recyclers–
Responsible Recycling (R2) – The R2 Practices standard was developed by a multi-stakeholder group that included U.S. EPA and industry representatives.  The standard is maintained and promoted by a non-profit organization – SERI.
R2/RIOS – The R2/RIOS standard was developed and is maintained by the Institute of Scrap Recycling Industries (ISRI), an industry trade association representing the scrap recycling industry.  The RIOS standard is a management system standard developed for recyclers that covers quality, environmental, health and safety performance generally.  An organization seeking this certification must become a member of ISRI.
E-Stewards – The E-Stewards standard was developed and is maintained by BAN – Basel Action Network.  BAN is a nonprofit organization that focuses on preventing the trade of toxic materials that cause environmental impacts in developing countries, particularly the export of hazardous waste.
For more information about these third-party certification programs, click here.
Overview of the R2 Practices
The Responsible Recycling (R2) standard is made up of 13 Practices –
Implementation of an EHSMS – Environmental, Health & Safety Management System
Commitment to a "Reuse, Recover…" Hierarchy of Responsible Management Strategies for E-Waste
Compliance with Applicable EHS and Data Security Legal Requirements – Including Export Bans
Utilization of Sound Practices for Protection of Worker and Public Health and Safety and the Environment
Proper Management of "Focus Materials" – Listed Materials That Have Potential EHS Impacts
Proper Handling of Equipment and Components Intended for Reuse
Maintenance of Records for Tracking of Materials that Pass Through the Facility
Use of Prescribed Data Destruction Procedures
Proper Material Storage
Maintenance of Facility Security Program
Demonstration of Financial Responsibility
Utilization of Appropriate Transport Practices
Maintenance of Documentation to Prove Conformance
These R2 Practices establish requirements for an integrated quality, environmental, health and safety management system.  These requirements are similar to those found in ISO 9001, ISO 14001 and OHSAS 18001.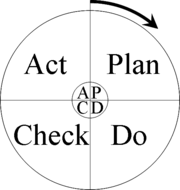 The R2 Practice 1 requires that an EHSMS be implemented that is based on the "Plan-Do-Check-Act" model.  This is often referred to as "PDCA" which is the basis for both ISO 14001 and OHSAS 18001. (Click here to learn more about PDCA.)
For more information about implementing an EHSMS to meet the requirements of the R2 Practices, click here.
Click here to download a copy of the Responsible Recycling (R2) Practices.
 

Supply Chain Management Utilizing the R2 Practices
To date, much of the focus on the R2 Practices has related to its use by electronics recyclers for the purpose of becoming R2 certified.
The R2 Practices can also provide guidance for purchasing managers and others who have been tasked with taking care of electronics disposal for their organization – even if they are not an electronics recycling company.  The R2 Practices set out "best practices" that any organization can utilize as it develops its processes, procedures and vendor contracts for disposing of its E-Waste .
What are the supply chain management practices embedded in the R2 Practices?
Vendor Selection Based on Objective Evidence of Sound EHS Management Practices
Identification and Understanding of Legal and Contractual Requirements
Processes for Downstream Due Diligence
Tracking of Material Throughput
Service Provider Certifications (e.g. Insurance and Transporter)
Additional Resources
For additional information and links to other websites about electronics recycling and the R2 Practices, check out the R2 Resources Page.